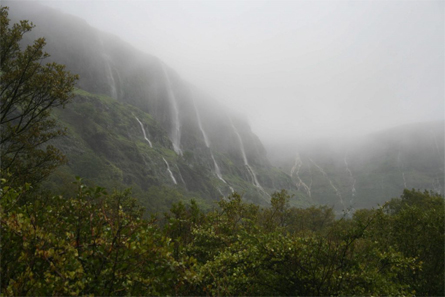 Nadukani
Nestled at an elevation of 3000 feet above the sea level, Nadukani is an ideal location for picnicking. It is located at a distance of about 25 kilometers away from Idduki. The name Nadukani means "to see the country". It is an enchanting hill station addressed in Idduki district of the state, Kerala. The captivating hills, the limitless charm, unique beauty of nature, enchanting Blue Mountains, towns, lakes of Nadukani take your breath away in a second. Make your visit to such a fascinating destination and experience the real colors of the god's own country. The perfect ambiance of the nature and the surroundings are captivating. A tourist gets an opportunity to explore the panoramic views of the Moolamattom town, Muvattupuzha River, Malankara resevious and beauty of the lush green surroundings. Each and every second moment spent in here will last long and forever.
Nadukani is well connected to Idduki and numbers of taxis and buses ply from Idduki to Nadukani every day. It is one of the unexplored destination in God's own Country which all of the tourists can choose.
Organize a Trip to the Land of Coconut Trees
and explore the beauty in this Vacation.
By Road: Nadukani is easily accessible by roadways. There are Direct buses are available from the main Towns.
By Rail: Though there are no railway station but still tourists can easily access from the nearest ones. The nearest railway stations are Kottayam and Ernakulam.
By Air: The nearest airport is Kochi airport
The months from October to January are the best time to visit Nadukani. During these months the days remains cool and pleasant.
View Larger Map